Dear Customer

Wednesday, 12th May 2021


TIFFIN CARRIER
ura Street Food's

PRE-ORDERED FOOD DELIVERY SERVICE


PICK UP BETWEEN

12:00 – 13:00
sometimes earlier in inclement weather

FOOD PICK UP POINT

Look for a RED Rav 4 by the Deco Shop

ORDER BY

Friday 12:00 for the following week

ORDER 

s.bose@urastreetfood.co.uk

 

07486530040 (txt only, pls)

PAYMENT

EXACT

CASH

(pls) or

CONTACTLESS


The menu below will be updated as and when needed.

I sometimes have a few pre-bagged spares, so please check with me on the day in case you haven't pre-ordered.

I am also cooking to pre-orders so please

don't

 cancel

once you have placed an order

Please pick up your food punctually between

12:00 and 13:00



Please let me know if you would like a gentle reminder on WhatsApp to order


KATI ROLLS
Kati Rolls are freshly made parathas (flatbreads) with different fillings like Paneer (Indian cheese I make), vegetable or a fusion filling. All Kati Rolls come with freshly made tangy slaw, sauce of the day and lemon juice.

(I'm not a photographer. Since I think pictures might help you to decide what you'd like, I provide them. But sometimes life prevents me from putting up one. Apologies for that. These pictures should be used only as a guide. The actual product may differ in colour and size)


CHILLI PANEER KATI ROLL: £5.00
A fruity paneer filling with peppers and spices
Ingredients:
wheat flour, milk (paneer), peppers, onions, tomato paste, soya sauce

, sugar, vinegar,

lemon juice, corn flour and rapeseed oil.




Allergy advice: dairy, wheat gluten, sulphites and soya





CAULIFLOWER & POTATO (Aloo Gobi) KATI ROLL : £4.20


A filling of sauteed potatoes and cauliflower with spices


Ingredients:
potatoes, cauliflower, cumin, coriander seeds, ginger, garlic, chipotle chilli flakes, turmeric, cayenne pepper, salt, asafoetida, lemon juice and rapeseed oil.


Allergy advice: wheat gluten and sulphites

 


HALF N HALF KATI ROLL : £5.00
A combi of Vegetable or whatever vegan dish is cooked and Paneer fillings in a flatbread.





DAL & OTHER FOODS
DAL OF THE DAY: £4.00  300g
Split black and red lentils cooked in a spicy tomato and coconut base.
Ingredients: split black & red lentils, tomatoes, dessicated coconut, onions, curry and chilli powder, turmeric, sugar, fresh coriander, salt and rapeseed oil. 
Allergy advice: none
(The picture is of a different dal.
Dish on 19th May: TBC)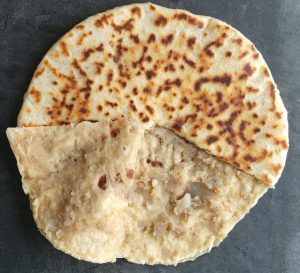 AMRITSARI ALOO (Potato) KULCHA: £2.00
 A sweetish flatbread with a lightly spiced potato stuffing
Ingredients:
wheat flour, potatoes, ginger, garam masala, chilli powder, baking powder, bicarbonate of soda, vegan yoghurt, sugar, fresh coriander, salt and rapeseed oil. Normally with fresh coriander although the picture shows the flat bread without.
Allergy advice: wheat gluten and soya
(Flatbread on 19th May: Amritsari Aloo Kulcha)


MEAL DEAL: £5.50


D

al

(200g) and flatbread


(

This generic picture is of a meal deal combi)
PEA and POTATO SAMOSA:
2 for £2.00 each £1.20


A filling of pea and potato, onions and spices in wheat flour pockets.


Ingredients:
wheat flour, potatoes, peas, ginger, garlic, onions, chilli power, garam masala, cumin and onion seeds, salt and rapeseed oil.
Allergy advice: wheat gluten

Large size samosas with the same filling are sold through
Rye and Roses Bakery in Penegoes on Fridays: 3-6pm.



VEGETABLE & CHEESE PASTY:
These are sold at the moment through
Rye and Roses Bakery in Penegoes only on
Fridays: 3-6pm.
Please contact me if you would like to order. Minimum order 5.  Delivery in or near Machynlleth currently on Fridays only. 

Ingredients:
wheat flour, potatoes, carrots, cheese, milk, onions, black pepper and salt.


Allergy advice: wheat gluten and dairy



SAUCE OF THE DAY

:
Tangy sweet and sour sauce


PLEASE NOTE
INGREDIENTS MAY CHANGE IN ALL OF THE FOODS ON THE MENU
Once you've bought your meal please 
CHECK your CHANGE and your ORDER🙂

HAPPY EATING


—~~~~~~~~~~~~—



What do these words mean

?


Aloo:

potato
Annatto: is a South American seed which when ground into powder is a beautiful dark red colour. Cooking with annatto gives  a dish a rich red colour with an earthy flavour.
Baba Ganoush: grilled aubergine mashed and spiced with lemon juice, garlic, olive oil, salt and either fresh coriander or parsley
Bhurji: essentially a mince of whatever food you are using. Can be cheese as in Paneer Bhurji, vegetables, or whatever takes your fancy 
Chole: chickpeas
Cokum (Kocum): a very dark coloured tropical fruit used in some South Indian states to add tartness to dishes. When soaked in water, the water turns a beautiful darkish red.
Dal: lentil
Dhaba: a Punjabi road side eatery where food is god.  Dhabas are everywhere and food is normally awesome as everything is prepared fresh daily
Garam masala: Indian cusine has many spice mixes. This is a very popular one with a dark brown colour with a spicy flavour.
Freekeh: a cereal food made from green durum wheat. It is roasted and rubbed to create its flavour. Serving for serving, it is supposed to have more protein and twice as much fibre as quinoa.
Harissa: a middle eastern sauce made from chillies, garlic and olive oil. Other variations are available.
Jeera: cumin
Magaz: melon seeds
Mango powder: amchoor
Masala: an Indian word which literally means 'Spice/s or spice mix'
Paratha: an Indian flatbread normally prepared with a little oil
Puranpoli: an Indian flatbread with a sweet filling
Samosa: a triangular pastry pocket filled with vegetables or meat
Tikki: is a patti. Spicing and mix is as varied as ones imagination
Tzatziki: a traditionally Greek dish yoghurt, cucumber, garlic and salt. Other ingredients may be added.
Urid lentil: or black gram when whole. When split the lentil is white.